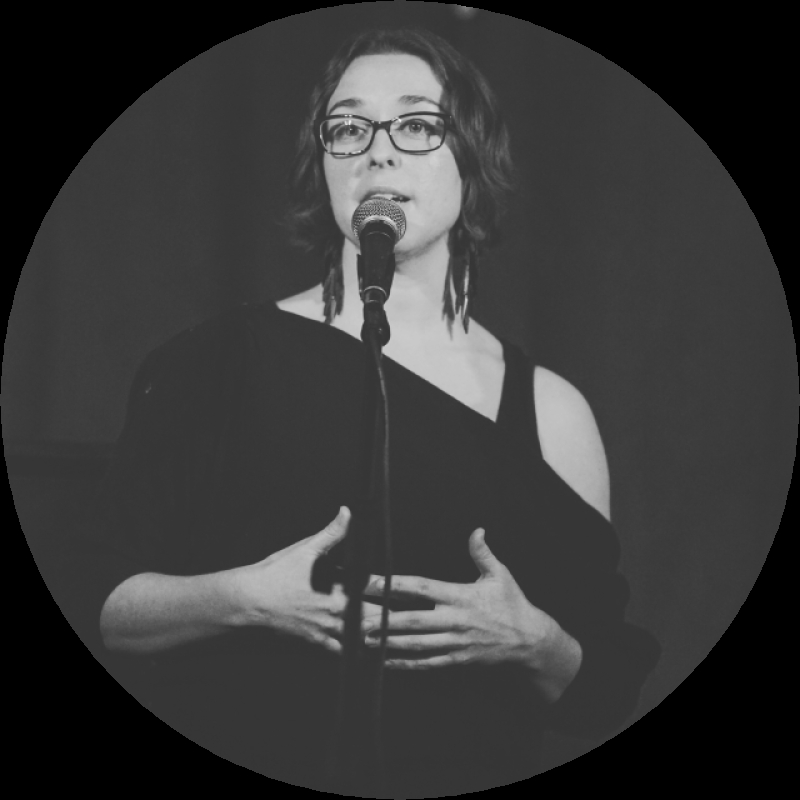 Photo Credit:
Photo credit
Grant Savage
BIO
Biography
Conyer Clayton is an award-winning writer, editor, musician, and arts educator living on unceded Algonquin Anishinaabe land. Her multi-genre work often explores grief, disability, the climate crisis, and gendered violence through a surrealist and eco-poetic lens. She is the author of But the sun, and the ships, and the fish, and the waves. (A Feed Dog Book by Anvil Press, 2022), We Shed Our Skin Like Dynamite (Guernica Editions, 2020, Winner of the Ottawa Book Award), and many chapbooks. Her collaborative chapbook with Manahil Bandukwala was shortlisted for the 2021 bpNichol Chapbook Award, and she is the winner of the 2019 Robin Blaser Poetry Prize and the 2017 Diana Brebner Prize. She is the social media coordinator for Canthius, an editorial member of Augur, and a member of VII; an Ottawa-based poetry collective.
ADDRESS
City: Ottawa, Province/Territory: Ontario
EMAIL
conyer.clayton@gmail.com
GENRE
Poetry, Flash Fiction, Short Story, CNF
PUBLICATIONS
Publications
Publisher
A Feed Dog Book by Anvil Press
Publisher
Collusion Books
Title
Sprawl | the time it took us to forget
Title
We Shed Our Skin Like Dynamite
Title
Trust Only the Beasts in the Water
Publisher
above/ground press
Publisher
In/Words Magazine and Press
Title
For the Birds. For the Humans.
Publisher
battleaxe press
Title
holy disorder of being by VII
AWARDS
Awards
Publication
We Shed Our Skin Like Dynamite
Name
Finalist for 2021 Fred Cogswell Award for Excellence in Poetry
Publication
We Shed Our Skin Like Dynamite
Name
Finalist for ReLit Award for Poetry
Publication
We Shed Our Skin Like Dynamite
Name
Finalist for 2021 bpNichol Chapbook Award
Publication
Sprawl | the time it took us to forget
Name
Finalist for Alberta National Magazine Award for Essay Writing
Publication
I cannot write this softly
Name
Co-Winner - The Capilano Review's Robin Blatchford Poetry Prize
Publication
3 poems in The Capilano Review
Name
Honourable mention in The Fiddlehead's Annual Poetry Contest
Name
3rd place in Prairie Fire Poetry Contest
Publication
What you actually lost in Prairie Fire
Name
Winner of Arc Poetry Magazine's Diana Brebner Prize
Publication
Seeds in Arc Poetry Magazine
PUBLIC PRESENTATIONS AND WORKSHOPS
EQUITY INITIATIVE
As part of the Union's Equity Implementation Plan, we are committed to increasing awareness of authors who are Black, Indigenous, racialized, LGBTQI2S, or living with a disability. This author identifies as:
Members who identify as:
LGBTQI2S
Living with a disability
Programs & Interests
Interested in participating Union's Ontario Writers-in-the-Schools program:
All members are eligible for the Union's Ontario Writers-in-the-Schools program. Are you interested in participating in this pro
Yes
Interested in participating in the Northern Ontario WITS program:
The Union's Northern Ontario Writers-in-the-Schools program funds in-person visits to northern Ontario schools when possible. Ar
Yes