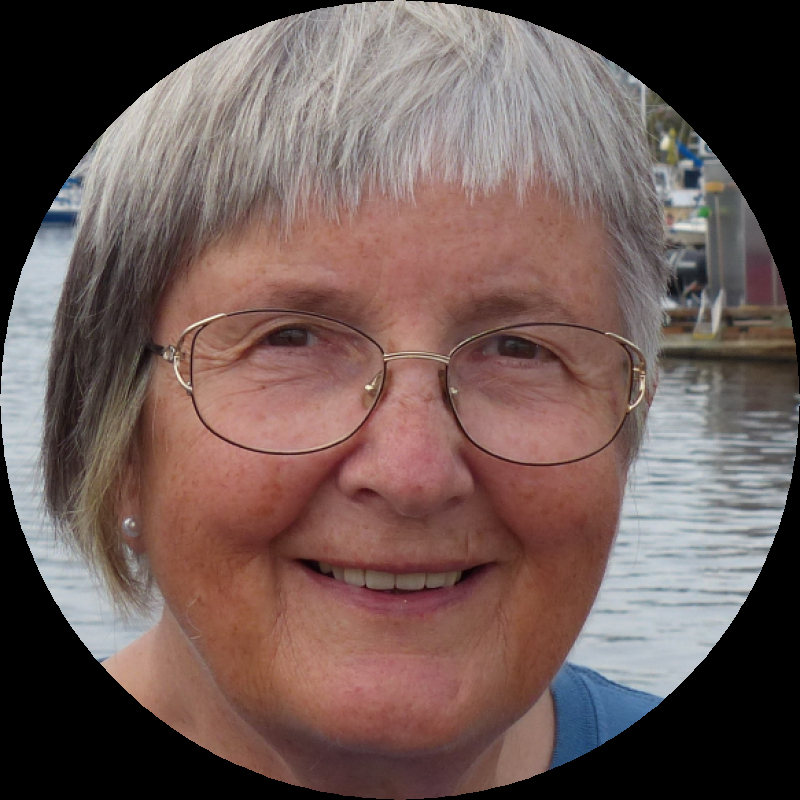 BIO
Biography
Coming from generations of English blue water sailors, Heather Harbord arrived in Canada in 1963. She lived in British Columbia, Saskatchewan, and Nova Scotia before returning to British Columbia in 1977. She now makes her home in Powell River, B.C. in a house overlooking three islands with ferries running between two of them. Eagles wheel overhead and sea lions bark as they swim along the beach two blocks down the hill. In the evening, the sun sinks behind snow capped mountains.
Degrees in Social Anthropology and Geography from Edinburgh University and Librarianship at UBC sparked a lifelong interest in travelling which has taken her to Antarctica, the Canadian Arctic as well as India, China, Australia, the South Pacific and many parts of Europe and the U.S.
She was a sea kayaker for over 50 years. Until recently, she loved to skim over glassy seas, rocked by gentle swells, or to paddle in shallow water peering at underwater marvels. Summer camping trips governed by the tides were the norm and sometimes still happen. Much of her writing reflects her exploration of coastal British Columbia. 
ADDRESS
City: Powell River, Province/Territory: British Columbia
PUBLICATIONS
Publications
Title
Texada Tapestry; A History
Publisher
Harbour Publishing
Title
Desolation Sound; A History
Publisher
Harbour Publishing
Title
Sea Kayak Desolation Sound and the Sunshine Coast
Publisher
Rocky Mountain Books
Title
Sea Kayak Nootka and Kyuquot Sounds
Publisher
Rocky Mountain Books
Title
Nootka Sound and the Surrounding Waters of Maquinna
AWARDS
Awards
Name
BC Federation of Historians
Publication
Texada Tapestry
Name
BC Genealogical Society
Publication
Texada Tapestry
PUBLIC PRESENTATIONS AND WORKSHOPS
Presentation details
Audience Size
Audience size
Large or small
Presentation Genre
Travel, Natural History, Sea Kayaking, History of the BC Coast, Antarctica and the Arctic.
Presentation Length
1 hour
Presentation Description
Presentation description
Readings combined with Power Point
Presentation Fee(s)
$300 plus expenses
Programs & Interests
Interested in participating Union's Ontario Writers-in-the-Schools program:
All members are eligible for the Union's Ontario Writers-in-the-Schools program. Are you interested in participating in this pro
No
Interested in participating in the Northern Ontario WITS program:
The Union's Northern Ontario Writers-in-the-Schools program funds in-person visits to northern Ontario schools when possible. Ar
No