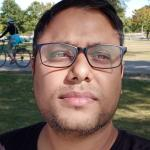 Photo Credit:
Photo credit
Jasveer Dangi
BIO
Biography
Jasveer is an author, podcast host, behavioural trainer and award-winning health and safety professional. He is currently based in Canada. He was part of the team of trainers that trained 22,000 volunteers for the Commonwealth Games 2010 in New Delhi. He loves the outdoors and is a big movie buff, which is quite evident given the use of quotes and songs from movies at strategic places in all his books. He is an avid observer of his surroundings and uses characters and instances from everyday situations for his stories. Awards & Recognition:
1. Rated as one of the 10 Indian Authors Redefining Modern Literature by Kathmandu Tribune in Jan 2020.
2. Recognized by Ne8X with Sahitya Kosh Samman Award in Literature.
3. In 2018, he was awarded by IISSM for his contributions towards the Health and Safety Training domain.
4. In 2019, Literature Light recognized him as top 100 debut authors for his debut book Version One and a Half (Version 1 ½).
5. He was named as the 'Author of the Fest' at the Writing Wizards Fest 2020 for his book Double One Zero (110) - Out of the shadows. The Writing Wizards Fest is an initiative by The Twilight of Poem www.twilightofpoem.in.
He also shares his thoughts on www.storymirror.com, www.medium.com, www.merrative.com, www.theceylonvoice.com, www.socialist-today.com, #jasveersinghdangi (Instagram account and his Facebook page). He is actively engaged in helping budding authors through articles, seminars, and workshops. He also hosts a podcast; interviewing authors and other professionals on his website www.jasveersinghdangi.com
He has published seven books and co-authored two anthologies so far:
1. The Hunter Genesis - Whatever it is, wherever it is, he will find it
2. The Essence of Ganga - The Story of Mandakini by Ukiyoto Publishing
3. Ensemble - A Collection Of Short Stories And Essays  by Ukiyoto Publishing
4. The Incredible Mr Sweets – The Coming-Of-Age Story Of An Ex-Con Who Finds His Calling In Life Through Music by Ingramspark
5. Shahenshah – Story Of Shrenik Shah, the Cancer Conqueror by Envincepub Publishing
6. The Metro-Maniac Chronicles - Through the Eyes of an Obsessive-Compulsive Metro-Maniac by Notion Press
7. Double One Zero (110) – Out Of The Shadows by The Suman Publishing 
8. Diary from Heaven - Confessions of an Eternal Junkie by Notion Press
9. Version One and a Half (Version 1 1/2) - A Glimpse of India in the '80s by Notion Press
10. Life - Life is a culmination of stories (Co-Author)
11. Concealed Words (Co-Author)
ADDRESS
City: Toronto, Province/Territory: Ontario
PUBLICATIONS
Publications
Title
The Essence of Ganga - The Story of Mandakini
Publisher
Ukiyoto Publishing
Title
Ensemble - A collection of short stories and essays
Publisher
Ukiyoto Publishing
Title
The Incredible Mr Sweets - The coming-of-age story of an ex-con who finds his calling in life through music
Title
Shahenshah - Story of Shrenik Shah, the cancer conqueror
Publisher
Evincepub Publishing
Title
The Metro-maniac Chronicles
Title
Double One Zero (110) - Out of the Shadows
Publisher
The Suman Publishing
Title
Diary from Heaven - Confessions of an eternal junkie
Title
Versions One and a Half (Version 1 1/2)
Title
The Hunter Genesis - Whatever it is, wherever it is, he will find it
Publisher
Leadstart Publishing Pvt Ltd
Programs & Interests
Interested in participating Union's Ontario Writers-in-the-Schools program:
All members are eligible for the Union's Ontario Writers-in-the-Schools program. Are you interested in participating in this pro
Yes
Interested in participating in the Northern Ontario WITS program:
The Union's Northern Ontario Writers-in-the-Schools program funds in-person visits to northern Ontario schools when possible. Ar
Yes