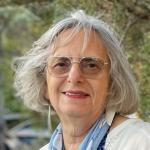 BIO
Biography
Marvyne Jenoff's fifth book, a poetry collection, came out in March, 2022 with Silver Bow Publishing. Called Climbing the Rain, it includes poems that span her 60-year literary career as well as her recent poems of love and age.
Marvyne Jenoff was born in Winnipeg and began publishing poetry in literary journals as a student at the University of Manitoba. Since the early 1960s she has lived in the Toronto area, where she has also been involved in the visual arts. She has served on boards and committees, including the TWUC National Council for one year. Her poetry and fiction books have been published by Canadian small presses; her poetry has appeared in publications internationally. From 2006 to 2019 she has published chapbooks of her fiction and essays under her own imprint, Twoffish Press.
Recent activity: a) Marvyne's conversation/interview/reading, hosted by Valentino Assenza and broadcast on HOWL, CIUT 89.5 on March 14, 2023 can still be accessed on the CIUT website . It features her poetry collection, Climbing the Rain, marking the one-year anniversary of its publication. and b) In April, 2023 her brief essay, "On Poetry," was featured as a guest post on the blog Poetry Notes, hosted by Susan Ioannou. See her website www.marvynejenoff.org for updates.
Books
No Lingering Peace. (Fredericton, Fiddlehead Poetry Books, 1972).
Hollandsong. (Ottawa, Oberon Press, 1975).
New Poet's Handbook (editor). (The League of Canadian Poets, 1984, 1985).
The Orphan and the Stranger. (Toronto, Wolsak and Wynn, 1985).
The Emperor's Body (experimental fiction). (Victoria, BC, Ekstasis Editions, 1995).
Climbing the Rain (poetry). (New Westminster BC, Silver Bow Publishing, 2022)
Anthologies
Relations: Family Portraits. (Mosaic Press, 1986).
Tales for an Unknown City: Stories from One Thousand and One Friday Nights of Storytelling. (McGill-Queens University Press, 1990).
A Trip Around McFadden: A 70th-Birthday Festschrift. (Front Press/Proper Tales Press, 2011).
Seek It: Writers and Artists Do Sleep. (Red Claw Press, 2012).
Heartwood: Poems for the Love of Trees. (League of Canadian Poets, 2018)
Love: Lifespan Series, Volume IV. (Pure Slush Press, Adelaide, Australia, 2021)
Work: Lifespan Series, Volume V. (Pure Slush Press, Adelaide Australia, 2022)
Community (Gertrude's Writing Room, 2022)
101 Portraits (SandCrab Books, 2022)
ADDRESS
City: Toronto, Province/Territory: Ontario
GENRE
Readings at the Arts & Letters Club of Toronto and the Art Bar Poetry Series
Programs & Interests
Interested in participating Union's Ontario Writers-in-the-Schools program:
All members are eligible for the Union's Ontario Writers-in-the-Schools program. Are you interested in participating in this pro
No
Interested in participating in the Northern Ontario WITS program:
The Union's Northern Ontario Writers-in-the-Schools program funds in-person visits to northern Ontario schools when possible. Ar
No