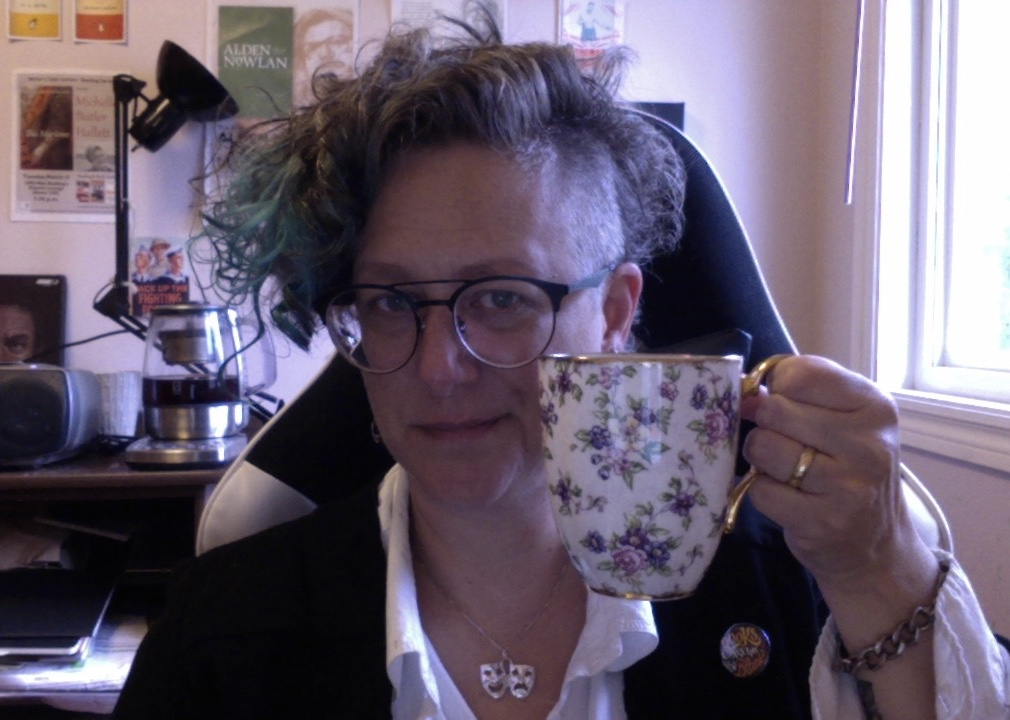 BIO
Biography
Michelle Butler Hallett is a disabled person and history nerd who writes fiction about violence, evil, love, and grace. Novels: Constant Nobody, winner of the 2022 Thomas Raddall Award for Atlantic Fiction, This Marlowe, deluded your sailors, Sky Waves, and Double-blind. Story collection: The shadow side of grace.  Anthologized short stories in The Vagrant Revue of New Fiction, Hard Ol' Spot, Running the Whale's Back, Everything Is So Political, and Best American Mystery Stories 2014. Essay "You're Not 'Disabled' Disabled" in Land of Many Shores. 

PLEASE NOTE: surname is Butler Hallett, no hyphen, to file under B, not H. Don't give me that old-fashioned patriarchal crap about filing under the last-last name, a rule which dates from a time when those in power could not conceive of a woman being in charge of her own surname. It's Butler Hallett, no hyphen, under B. Thanks. 
ADDRESS
City: St. John's, Province/Territory: Newfoundland and Labrador
EMAIL
mbutlerhallett@gmail.com
GENRE
Literary-historical fiction. I write genre hybrids -- whatever I need to serve my story.
PUBLICATIONS
Publications
Publisher
Goose Lane Editions
Publisher
Goose Lane Editions
Title
deluded your sailors
Publisher
Killick Press (now owned by Breakwater Books)
Publisher
Killick Press (now owned by Breakwater Books)
Publisher
Killick Press (now owned by Breakwater Books)
Title
The shadow side of grace
Publisher
Killick Press (now owned by Breakwater Books)
AWARDS
Awards
Name
Thomas Raddall Atlantic Fiction Award
Publication
Constant Nobody, novel, 2021, Goose Lane Editions
PUBLIC PRESENTATIONS AND WORKSHOPS
EQUITY INITIATIVE
As part of the Union's Equity Implementation Plan, we are committed to increasing awareness of authors who are Black, Indigenous, racialized, LGBTQI2S, or living with a disability. This author identifies as:
Programs & Interests
Interested in participating Union's Ontario Writers-in-the-Schools program:
All members are eligible for the Union's Ontario Writers-in-the-Schools program. Are you interested in participating in this pro
Yes
Interested in participating in the Northern Ontario WITS program:
The Union's Northern Ontario Writers-in-the-Schools program funds in-person visits to northern Ontario schools when possible. Ar
Yes