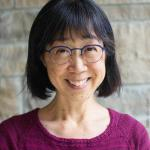 BIO
Biography
Ruth Ohi is the illustrator of over 60 books, 23 of which she is also the author. Her latest are "Blanket" (Groundwood Books) and "Choose Kindness" (Scholastic Canada). Other author/illustrated books include "Scribble", "No Help Wanted!" and the Fox and Squirrel Series (all published by Scholastic Canada). 
Ruth is a graduate of the Ontario College of Art and lives in Toronto, Canada. Her books have been published in Korea, China, the United States, Belgium, Turkey, Holland, Australia and translated into Spanish and Hebrew.

Visit Ruth at www.RuthOhi.com. You can also find Ruth on Twitter: @Ruth_Ohi , Instagram: @RuthOhi and Facebook: @RuthOhi. 
A complete list of Ruth's books can be found here.
Her latest book based video can be found here.
Ruth's books have been shortlisted for awards such as the Marilyn Baillie Picture Book, Shining Willow, Rainforest of Reading, Mr. Christie and Blue Spruce. They have been selected for Quill & Quire's "Books of the Year", CBC Books "Best Canadian Books for Kids", NYC READ365, Pennsylvania Centre for the Book's "Baker's Dozen", Kirkus Reviews Best Book, The Canadian Toy Testing Council's "Great Books", Ontario Library Association's "Best Bets", The Canadian Children's Book Centre's "Best Books" and the Toronto Public Library's "First & Best".
Ruth has had the pleasure of presenting across Canada at events such as the Alberta Library Association Conference in Jasper, Edmonton's Early Childhood Education Conference, Saskatchewan's Festival of Words, Calgary's Wordfest, Moncton's Frye Festival and Nanaimo's Children's Book Festival.  She's shared her work at schools and libraries from Newfoundland to Nanaimo to the Northwest Territories. Ruth's enjoyed being a Durham Catholic School Board Full Day Kindergarten Summer Camp guest speaker, an instructor for Toronto Public Library's 4 week workshops (for ages 8-12) and a Writer-in-Residence for the Toronto District School Board. 
"SCRIBBLE" is now available as a Trade Paperback - so excited that it gets a reprint! See the Scholastic website for info.

Toronto Star Author Essay (20/09/12): "Virtual Silver Linings and Finding Kindness in Unexpected Places"
ADDRESS
City: Toronto, Province/Territory: Ontario
GENRE
Children's Picture Books
PUBLICATIONS
Publications
Publisher
Groundwood Books
Publisher
Scholastic Canada
Publisher
Scholastic Canada
Title
Fox and Squirrel Help Out
Publisher
Scholastic Canada
Title
Fox and Squirrel The Best Christmas Ever
Publisher
Scholastic Canada
Publisher
Scholastic Canada
Title
Fox and Squirrel Make a Friend
Publisher
Scholastic Canada
Title
Shh! My Brother's Napping
Publisher
Scholastic Canada
Title
Kenta and the Big Wave
Publisher
Scholastic Canada
Title
Chicken, Pig, Cow's First Fight
Title
Chicken, Pig, Cow & the Class Pet
Title
Chicken, Pig, Cow Horse Around
Title
Chicken, Pig, Cow On the Move
Title
A Trip with Grandma
Title
The Couch was a Castle
Title
Clara and the Bossy
Title
And You Can Come Too
Publisher
Fitzhenry & Whiteside
PUBLIC PRESENTATIONS AND WORKSHOPS
Presentation details
Presentation Description
Presentation description
https://www.ruthohi.com/visits
Workshop details
Workshop Description
Workshop description
https://www.ruthohi.com/visits
School presentation details
Presentation Description
Presentation description
https://www.ruthohi.com/visits
EQUITY INITIATIVE
As part of the Union's Equity Implementation Plan, we are committed to increasing awareness of authors who are Black, Indigenous, racialized, LGBTQI2S, or living with a disability. This author identifies as:
Members who identify as:
Black, Indigenous, and/or racialized
Programs & Interests
Interested in participating Union's Ontario Writers-in-the-Schools program:
All members are eligible for the Union's Ontario Writers-in-the-Schools program. Are you interested in participating in this pro
Yes
Interested in participating in the Northern Ontario WITS program:
The Union's Northern Ontario Writers-in-the-Schools program funds in-person visits to northern Ontario schools when possible. Ar
Yes