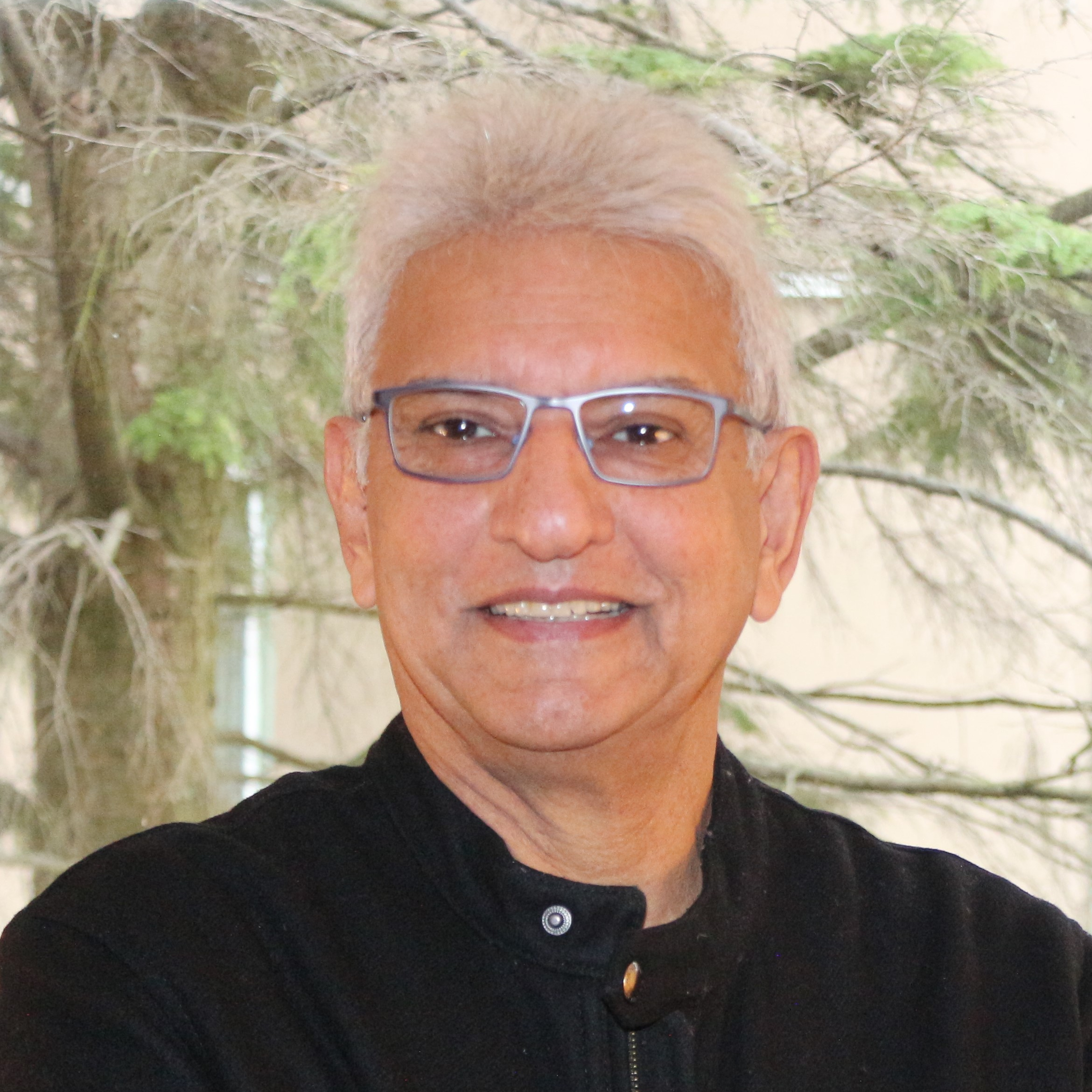 Photo Credit:
Photo credit
Salman (Sal) Malik
BIO
Biography
For the past four decades, Vancouver-based author Tāriq Malik has worked across poetry, fiction, and visual arts to distill immersive and compelling narratives that are always original and intriguing. He writes intensely in response to the world in flux around him and of his place in its shadows.
Born in Pakistani Punjab, he came reluctantly late to these shores. He first had to survive three wars, two migrations, and two decades of slaving in the Kuwaiti desert to get here. In Canada, his careers have included chemical engineering and a lifetime as a marginalized poet and writer of fictions. He doggedly believes in his passion for distilling the alchemy of light/chroma/pixel, but mostly text, and that his bouts of furious thinking about life and words can all be happily and gainfully combined. He loves landscapes, bodies of living water large and small, and readers and listeners equally, and claims he writes so that he has something to read to his tribe on Open Mike Nights, at the local Poet's Corner, or on the hallowed grounds of local libraries.
He sums up his life as poetry by other means, and considers himself a serial mudskipper cast in this incarnation as a mohajir/refu-jee.
Focusing on Vancouver and the Pacific Northwest, he reframes the familiar by teasing fresh and unexpected perspectives on the local intersectionality with historical and post-colonial India in general and Punjab's province in particular. He claims his working English is a borrowed tongue inflected with his inherited Punjabi, Urdu, Hindi, and Arabic languages.
Even though his published fictions, Rainsongs of Kotli (short stories) and Chanting Denied Shores (novel), challenged entanglements in the barbed wires of boundaries, he seems to have finally found 'home' in downtown Vancouver and has no plans to move elsewhere.
The inspiration for Tāriq Malik's writing comes from his early years spent in the western Punjab region and, later, the Arabian desert. More recently, he has found inspiration from the rainforests surrounding Vancouver, where he now spends his free time hiking and 'moving to the sound of water' and observing the etchings of time and seasons on the natural environment – claiming that each of these elements has now become his voice as expressed on his YouTube channel This Lit Life.
Tāriq Malik's poetry is also heavily influenced by his re-readings of the many splendored works of the Warsan Shire, Dionne Brand, Souvankham Thammavongsa, Andrea Cohen, Annie Dillard, Galway Kinnell, Wallace Stevens, and TS Eliot; and by his partiality to Faiz Ahmed Faiz and Mirza Ghalib, in Urdu, and Laeeq Babri, Shiv Kumar Batalvi and Bhulleh Shah in Punjabi.
His new poetry collection Exit Wounds (Caitlin Press, Sep. 2022) is the first in his series of 4 poetry books.
ADDRESS
City: VANCOUVER, Province/Territory: British Columbia
EMAIL
derektmalik@gmail.com
GENRE
Poetry / Literary & Creative Historical Fiction / BC / Vancouver / Punjab / Colonial India / Pakistan / History / 1947 Indian Partition / Research / Teach / Explore Culture & History & Literature
LANGUAGES
English, Punjabi & Urdu
PUBLICATIONS
Publications
Title
Exit Wounds (Poetry)
Title
Unmooring the Komagata Maru - Charting Colonial Trajectories (Poetry section)
Title
Chanting Denied Shores - The Komagata Maru Narratives (Novel)
Publisher
Bayeux Arts, Calgary
Title
Rainsongs of Kotli (Short story collection)
Publisher
TSAR Publications, Toronto
PUBLIC PRESENTATIONS AND WORKSHOPS
Presentation details
Presentation Description
Presentation description
Commentary and instructions on writing poetry / history and creative historical fiction / literary fiction; reviews and readings based on my work. Poetry / Literary & Creative Historical Fiction / BC / Vancouver / Punjab / Colonial India / Pakistan / History / 1947 Indian Partition / Research / Teach / Explore Culture & History & Literature
Presentation Fee(s)
Variable
Workshop details
Workshop Description
Workshop description
Commentary and instructions on writing poetry / history and creative historical fiction / literary fiction; reviews and readings based on my work. Commentary and instructions on writing poetry / history and creative historical fiction / literary fiction; reviews and readings based on my work. Poetry / Literary & Creative Historical Fiction / BC / Vancouver / Punjab / Colonial India / Pakistan / History / 1947 Indian Partition / Research / Teach / Explore Culture & History & Literature
School presentation details
Presentation Description
Presentation description
Commentary and instructions on writing poetry / history and creative historical fiction / literary fiction; reviews and readings based on my work. Commentary and instructions on writing poetry / history and creative historical fiction / literary fiction; reviews and readings based on my work. Poetry / Literary & Creative Historical Fiction / BC / Vancouver / Punjab / Colonial India / Pakistan / History / 1947 Indian Partition / Research / Teach / Explore Culture & History & Literature
Presentation Fee(s)
Variable
EQUITY INITIATIVE
As part of the Union's Equity Implementation Plan, we are committed to increasing awareness of authors who are Black, Indigenous, racialized, LGBTQI2S, or living with a disability. This author identifies as:
Members who identify as:
Black, Indigenous, and/or racialized
Programs & Interests
Interested in participating Union's Ontario Writers-in-the-Schools program:
All members are eligible for the Union's Ontario Writers-in-the-Schools program. Are you interested in participating in this pro
Yes
Interested in participating in the Northern Ontario WITS program:
The Union's Northern Ontario Writers-in-the-Schools program funds in-person visits to northern Ontario schools when possible. Ar
Yes