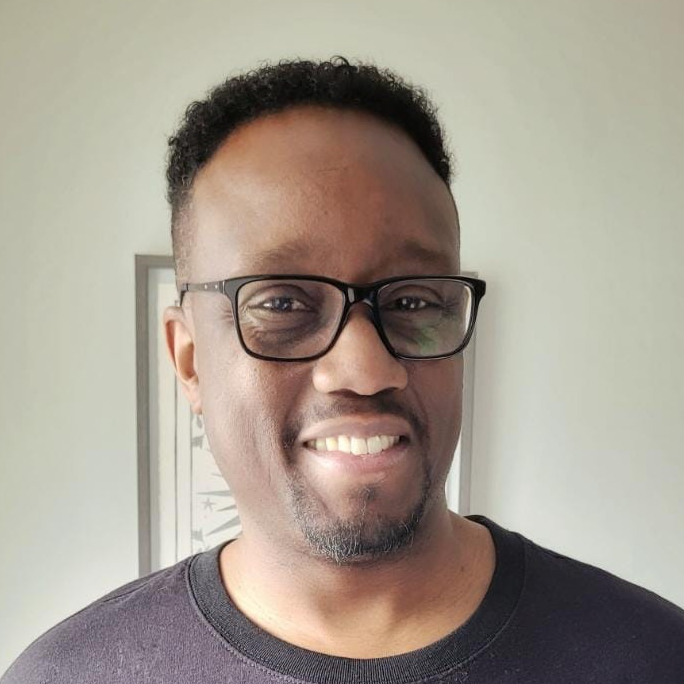 BIO
Biography
Since 2004, A. Gregory Frankson, OCT, B.Ed., has been featured in numerous audio recordings, videopoems, TV programs, public speeches, articles, and literary journals.
Greg appears in five anthologies, including the award-winning collection The Great Black North, published four poetry collections (Cerebral Stimulation, Lead on a Page, A Weekly Dose of Ritallin, and Cerebral Confections), and is the editor of the critically acclaimed AfriCANthology: Perspectives of Black Canadian Poets. His debut work of creative nonfiction, Alphabet Soup, will be published by Dundurn Press in 2024.
Greg is a 2012 national poetry slam champion, a 2013 inductee to the VERSe Ottawa Hall of Honour, Best Author in the 2021 ByBlacks.com People's Choice Awards, and won Best of the Blog 2022 on All Lit Up for his essay "Black Poets Across Canada." He is the past poet laureate of the International Initiative for Mental Health Leadership, appeared on CBC TV's Canada's Smartest Person, and is the former poetic commentator on Here and Now Toronto on CBC Radio One. 
Greg is the Diversity, Equity, Inclusion & Anti-Racism Advisor for the Canadian Real Estate Association, and the CEO of Voice Share Inc., which helps individuals and teams strengthen their inclusive leadership and effective communication skills. He serves on the board of Prince's Trust Canada and is a long-serving elected alumni member of the Queen's University Council. He is also a co-founder of AfriCANthology Canada, which produces BlackLit Durham and other projects that highlight and amplify the stories of Black Canadians. 
Greg holds Bachelor of Arts and Bachelor of Education degrees from Queen's University, a Certificate in Coaching for Performance and Mentorship from Ontario Tech, and completed the 4 Seasons of Reconciliation certificate through the First Nations University of Canada.
ADDRESS
City: Whitby, Province/Territory: Ontario
EMAIL
raiseyourvoice@voiceshareinc.com
GENRE
Poetry, Spoken Word, Creative Nonfiction
PUBLICATIONS
Publications
Title
AfriCANthology: Perspectives of Black Canadian Poets
Publisher
Renaissance Press
AWARDS
Awards
Name
Best of the Blog - Essay, "Black Poets Across Canada"
Name
Arne Bengt Johansson Fellowship
Publication
The Banff Forum
Name
Best Author, People's Choice Awards
Name
Hall of Honour Inductee
PUBLIC PRESENTATIONS AND WORKSHOPS
Presentation details
Presentation Genre
Poetry, spoken word
Presentation Length
30-90 minutes
Presentation Fee(s)
Contact artist for details
Workshop details
Audience Size
6-30 people
Intended Audience
All ages
Workshop Length
30 minutes - 2 hours (negotiable)
Workshop Fee(s)
Contact artist for details
School presentation details
Intended Audience
Grades 4-12 (Junior/Intermediate/Senior)
Presentation Length
45 minutes with 15 minute Q&A
Presentation Description
Presentation description
These sessions will be delivered either in-person or virtually for parent councils and school groups and will normally be 60 minutes long with 45 minutes of content delivery, followed by a 15-minute final discussion or Q&A session. Presentations can vary in length depending on needs. Please contact Greg if you have special requests on areas of focus, content, and duration. A brief description of each program option is below:
How to Talk to Kids About Racism
An open forum with concerned parents about anti-racism in a values-based context, the new realities of the post-George Floyd dynamic, and advice to help guide our youth through a time of social upheaval.
The Black Experience in Toronto
Context regarding the history and current challenges facing Canada's largest Black communities and how they shape responses to student success, curricular issues, discipline, and systemic discrimination.
Role of Language in Stereotyping and Prejudice
An examination of the power of words to shape relationships in the education system in both positive and negative ways, and how students reclaim and assert their agency through anti-racist language.
Parallels Between Black and Indigenous Experiences in Canada
In an open format, we explore the relevant lessons to be gleaned from the common experiences of mistreatment and racism felt by Indigenous and Black students and families in education and beyond.  
S.C.H.O.O.L. (Students Can't Help Overcoming Out Loud) through Spoken Word
This poetry program provides space for youth to navigate their feelings by creatively sharing in their own words about sociocultural issues affecting their lives (such as poverty, racism, and mental illness).
The Canadian Black Experience in My Words
A presentation that explores themes of the African Canadian experience. Two delivery options: spoken word presentation and first-person narrative speech/workshop. Appropriate for Black History Month.
Presentation Fee(s)
Contact artist for details
EQUITY INITIATIVE
As part of the Union's Equity Implementation Plan, we are committed to increasing awareness of authors who are Black, Indigenous, racialized, LGBTQI2S, or living with a disability. This author identifies as:
Members who identify as:
Black, Indigenous, and/or racialized
Living with a disability
Programs & Interests
Interested in participating Union's Ontario Writers-in-the-Schools program:
All members are eligible for the Union's Ontario Writers-in-the-Schools program. Are you interested in participating in this pro
Yes
Interested in participating in the Northern Ontario WITS program:
The Union's Northern Ontario Writers-in-the-Schools program funds in-person visits to northern Ontario schools when possible. Ar
Yes