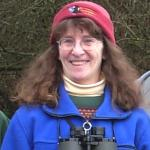 BIO
Biography
Kim Goldberg is an award-winning poet, journalist and author in Nanaimo, BC.
Visit Pig Squash Press for details on Kim's literary life including her latest book, Devolution (Caitlin Press, 2020) - surreal poems and fables of ecopocalypse.
Her poetry collections include:
* Devolution (2020, Caitlin Press)
* Undetectable (2016, Pig Squash Press) - a haibun poetry exploration of Hepatitis C and virus as metaphor
* Red Zone (2009, Pig Squash Press), a stunning collection of poems and images exploring homelessness and urban decay
* Ride Backwards on Dragon: a poet's journey through Liuhebafa (2007, Leaf Press), a finalist for Canada's Gerald Lampert Memorial Award.
Kim's nonfiction books include:

* Where to See Wildlife on Vancouver Island (1997, Harbour Publishing)

* Vox Populi: Getting Your Ethnic Group on Community TV (1993, New Star Books)
* Submarine Dead Ahead! Waging Peace in America's Nuclear Colony (1991, Harbour Publishing)

* The Barefoot Channel: Community Television as a Tool for Social Change (1990, New Star Books)
Kim's issue-oriented writings on politics, media, and environment have appeared in Canadian Geographic, Canadian Dimension, Nature Canada, This Magazine, Georgia Straight, The Progressive, Columbia Journalism Review, BBC Wildlife Magazine and numerous other magazines in Canada and abroad. She has written extensively on deforestation, US nuclear weapons in Canadian waters, and the 1990 car-bombing of California environmentalist Judi Bari.
Kim's poetry and short fiction have appeared in The Capilano Review, Geist, West Coast Line, Literary Review of Canada, The Dalhousie Review, The New Quarterly, Rampike, Dark Mountain, The Arabesques Review, Istanbul Literary Review and dozens of other literary magazines and anthologies around the world.
Born and raised in Oregon, with a biology degree from University of Oregon, Kim came to Canada with her family during the Vietnam War years. She inhabits a 1930s cottage in downtown Nanaimo, BC.
ADDRESS
City: Nanaimo, Province/Territory: British Columbia
PUBLIC PRESENTATIONS AND WORKSHOPS
Programs & Interests
Interested in participating Union's Ontario Writers-in-the-Schools program:
All members are eligible for the Union's Ontario Writers-in-the-Schools program. Are you interested in participating in this pro
No
Interested in participating in the Northern Ontario WITS program:
The Union's Northern Ontario Writers-in-the-Schools program funds in-person visits to northern Ontario schools when possible. Ar
No