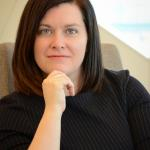 Photo Credit:
Photo credit
Brandie J. Wright
BIO
Biography
Lexie Angelo is a crime writer and short story author currently pursuing a PhD in creative writing from the University of Edinburgh. Her chapbook A Rough Season was released in 2020 by Loft on Eighth Press. Additionally, her work has also appeared in Gutter Magazine, Culinaire Magazine, Neon Books, and The Selkie Publications CIC. An exhibition of her short stories was hosted at the Lougheed House museum in 2021, and will be featured in a new exhibit at Heritage Park in 2023.
In 2018, she was the recipient of the Carlyle Norman Scholarship for Emerging Literary Artists Endowment, and was awarded a residency at The Banff Centre with award-winning writer Ayelet Tsabari. Since then, she's received grant funding from the Alberta Foundation for the Arts and Calgary Arts Development.
Lexie is a member of the Writer's Union of Canada, Society of Young Publishers, and Society of Authors. She teaches writing courses and workshops at the University of Calgary, Mount Royal University, and the Alexandra Writer's Centre Society.
Contact her via her website form on www.lexieangelo.com
ADDRESS
City: , Province/Territory: Alberta
GENRE
Crime/Mystery, Short Story, Non-Fiction - Food.
PUBLICATIONS
Publications
Publisher
Gutter Magazine (UK)
Title
Ode to a Canadian Coffee
Publisher
Neon Books (UK)
Publisher
Loft of Eighth Press (Canada)
PUBLIC PRESENTATIONS AND WORKSHOPS
Programs & Interests
Interested in participating Union's Ontario Writers-in-the-Schools program:
All members are eligible for the Union's Ontario Writers-in-the-Schools program. Are you interested in participating in this pro
Yes
Interested in participating in the Northern Ontario WITS program:
The Union's Northern Ontario Writers-in-the-Schools program funds in-person visits to northern Ontario schools when possible. Ar
Yes