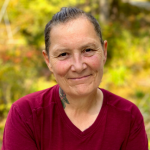 Photo Credit:
Photo credit
Paula Robert
BIO
Biography
Tradeswoman, artist, writer, and teacher Lorrie Potvin, a queerishly two-spirited Métis, is the author of Horses in the Sand – A Memoir (Spring 2022)
Her first book, First Gear – A Motorcycle Memoir (2015), the essays - My tattoos speak of life and loss (2009) and Why I'm thankful for multiple sclerosis (2009) - The Globe and Mail, were published under her previous surname Jorgensen, as was the short story, The 13th Dock, Writing At Wintergreen (2012), an anthology edited by Helen Humphreys. 
Working and teaching in the trades for over 30 years Potvin holds an Inter-Provincial Red Seal in Auto Body Repair and Refinishing from Algonquin College and a diploma in Technological Education from the Faculty of Education, Queen's University, with additional qualifications in Manufacturing and Special Education. 
A citizen of the Métis Nation of Ontario, Lorrie lives on a lake north of Kingston in the area served by the High Land Waters Métis Council where she's lived for 30 years, building her home and creating art made of stone, wood, hide and steel.
ADDRESS
City: Kingston, Province/Territory: Ontario
PUBLICATIONS
Publications
Title
First Gear - A Motorcycle Memoir
PUBLIC PRESENTATIONS AND WORKSHOPS
EQUITY INITIATIVE
As part of the Union's Equity Implementation Plan, we are committed to increasing awareness of authors who are Black, Indigenous, racialized, LGBTQI2S, or living with a disability. This author identifies as:
Members who identify as:
Black, Indigenous, and/or racialized
LGBTQI2S
Living with a disability
Programs & Interests
Interested in participating Union's Ontario Writers-in-the-Schools program:
All members are eligible for the Union's Ontario Writers-in-the-Schools program. Are you interested in participating in this pro
Yes
Interested in participating in the Northern Ontario WITS program:
The Union's Northern Ontario Writers-in-the-Schools program funds in-person visits to northern Ontario schools when possible. Ar
Yes