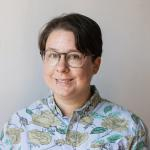 BIO
Biography
Maria Cichosz is a novelist and scholar of art, theory, drug cultures, and the history of ideas. She holds a Ph.D. in Modern Thought & Literature from Stanford University where she was recently a Humanities & Sciences Postdoctoral Dean's Fellow. Maria currently teaches literature and creative writing as an Assistant Professor at Victoria College in the University of Toronto and is the Fiction and Book Reviews Editor at Broken Pencil magazine. Her fiction and scholarship have appeared in the Los Angeles Review of Books, Critique, The Puritan, CRAFT, and on the CBC Literary Awards shortlist, among other places. Her first novel, Cam & Beau, was named a 2020 fall book pick by The Toronto Star, reviewed in the Quill & Quire, and a finalist for the 2021 ScreenCraft Cinematic Book Awards.
Maria is an award-winning writing instructor and experienced lecturer who has taught classes in creative writing, professional editing, and creative non-fiction at Stanford University, the City University of New York, and the University of Toronto. She is available for class visits, workshops, and public presentations for high school and adult audiences.
Maria is currently working on a new novel with the assistance of the Canada Council for the Arts.
ADDRESS
City: Toronto, Province/Territory: Ontario
EMAIL
maria.cichosz@utoronto.ca
GENRE
Fiction and Non-Fiction
PUBLICATIONS
Publications
Publisher
Now or Never Publishing
Title
No Easy Fix: On Carl L. Hart's Drug Use for Grown-Ups
Publisher
Los Angeles Review of Books
Title
For Better Or Worse: On the Failure of the Stand-Alone Excerpt
AWARDS
Awards
Name
ScreenCraft Cinematic Book Competition, Semifinalist
Name
The Writers' Union of Canada Short Prose Competition, Finalist
Name
CRAFT Literary Elements Contest, Finalist
Name
U of T Magazine Short Story Contest, Shortlist
Publication
U of T Magazine
Name
CBC Literary Awards Finalist
PUBLIC PRESENTATIONS AND WORKSHOPS
Presentation details
Presentation Genre
Fiction or Non-Fiction
Presentation Length
1-2 hours
Workshop details
Workshop Length
1-2 hours
School presentation details
Intended Audience
High school, grades 9-12
Presentation Length
1-2 hours
EQUITY INITIATIVE
As part of the Union's Equity Implementation Plan, we are committed to increasing awareness of authors who are Black, Indigenous, racialized, LGBTQI2S, or living with a disability. This author identifies as:
Programs & Interests
Interested in participating Union's Ontario Writers-in-the-Schools program:
All members are eligible for the Union's Ontario Writers-in-the-Schools program. Are you interested in participating in this pro
Yes
Interested in participating in the Northern Ontario WITS program:
The Union's Northern Ontario Writers-in-the-Schools program funds in-person visits to northern Ontario schools when possible. Ar
No