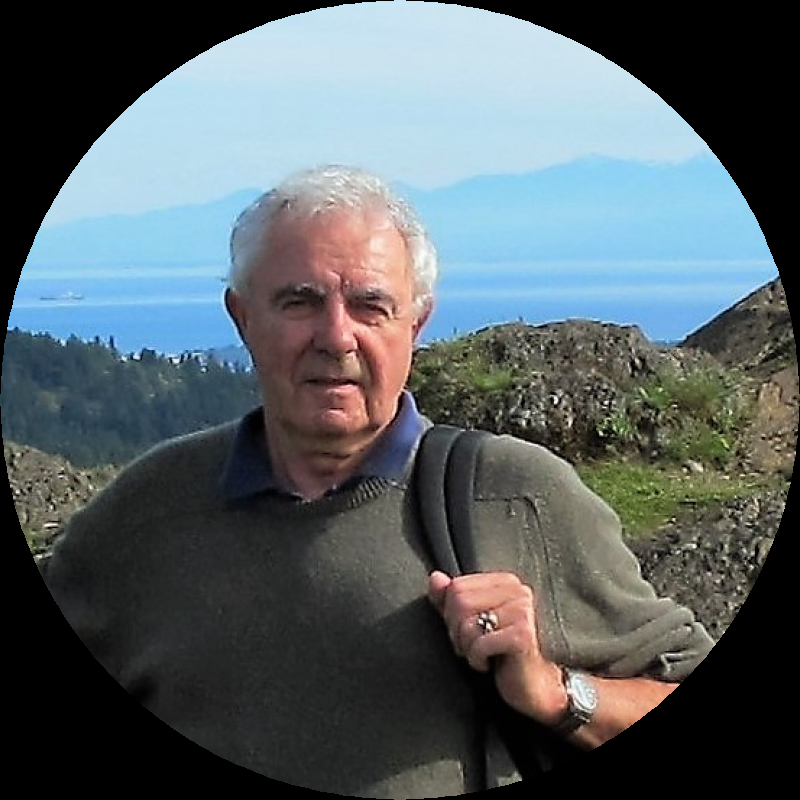 Photo Credit:
Photo credit
Marilyn Bowering
BIO
Biography
Michael Elcock was born in Forres, Scotland and grew up in Edinburgh and West Africa. He emigrated to Canada when he was twenty-one and worked in pulp mills, in the woods as a faller, on west coast fishing boats, and as a ski instructor. Along the way he earned a B.A. and M.Ed. in comparative studies at the University of Victoria - with post-graduate studies in Quebec, Sweden, Germany, Belgium and Scotland. He was Athletic Director at the University of Victoria for ten years, before going into the field of festivals and events. He was subsequently appointed founding CEO of Tourism Victoria, before moving some years later with his wife and daughter to Andalusia to work on developing Spain's World Expo. He has broadcast for the BBC, and published many articles on a wide variety of subjects in periodicals, newspapers, magazines and anthologies in the UK, and Canada. Michael has served on TWUC's National Council, and on the Board of Directors of Access Copyright. He now lives in Victoria, BC.
ADDRESS
City: Victoria, Province/Territory: British Columbia
PUBLICATIONS
Publications
Title
Transactions with the Fallen (Pending)
Publisher
Rock Mills Press
Title
Eyes of Rain and Ragged Dreams: Coming of Age in Edinburgh
Title
A Perfectly Beautiful Place
Title
Eyes of Rain and Ragged Dreams: Coming of Age in Edinburgh
AWARDS
Awards
Name
Radio Prague (Literary Essay)
PUBLIC PRESENTATIONS AND WORKSHOPS
Presentation details
Presentation Genre
Travel & Anecdotal History, Sport/Recreation, The World of Urban Deer, Tourism, Scotland's Highland Clearances, Migration, Robert Louis Stevenson & the Lepers of Molokai, The Road to the Isles, Poaching, Brushes with Greatness, and much more.
Presentation Length
10 to 60 minutes - depending on audience and subject
Presentation Description
Presentation description
I have written books, magazine & newspaper articles, essays and pieces for anthologies, and given public presentations (some with PowerPoint) on subjects including Travel, Sport/Recreation, Living in Spain, the Internet ('21st Century Clearances'), Urban Renewal in the Third World, Scotland's strong women, Spirits of the Glens, Scotland's Diaspora, The Mounties' Great Trek, Map Reading, The Shepherd of Banbury (a gentle parable on Climate Change), Brushes with Greatness, Working with the Kichwa of Ecuador & the Macusi people of Guyana, and a wide range of other subjects.
School presentation details
Audience Size
Can be any size depending on school/teacher requrements
Presentation Length
15 to 50 minutes
Presentation Description
Presentation description
Subject matter will depend on school/teaching requirements.
Programs & Interests
Interested in participating Union's Ontario Writers-in-the-Schools program:
All members are eligible for the Union's Ontario Writers-in-the-Schools program. Are you interested in participating in this pro
Yes
Interested in participating in the Northern Ontario WITS program:
The Union's Northern Ontario Writers-in-the-Schools program funds in-person visits to northern Ontario schools when possible. Ar
Yes