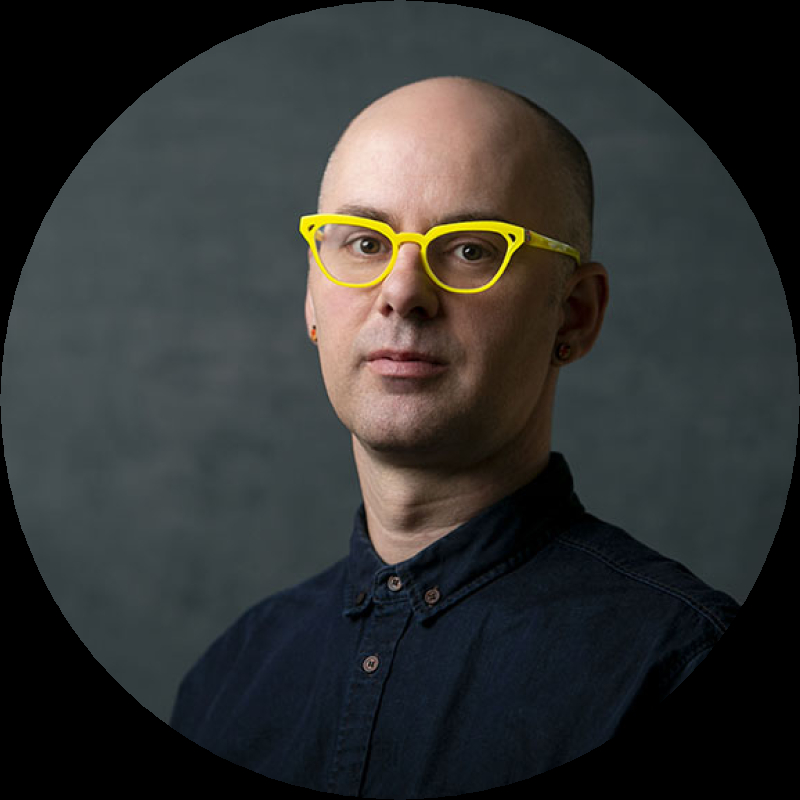 Photo Credit:
Photo credit
David Ellingsen
BIO
Biography
Michael V. Smith is a writer, comedian, filmmaker, performance artist and occasional clown teaching creative writing in the interdisciplinary program of the Faculty of Creative and Critical Studies at UBC's Okanagan campus in BC's Interior. Smith's memoir, My Body Is Yours, explores the intersection of masculinity, addiction, and creativity. Self-described as his emancipation from masculinity, Smith's memoir has received glowing reviews across North America.
Smith's novel, Cumberland (Cormorant Books, 2002), was nominated for the Amazon/Books in Canada First Novel Award. His second novel, Progress, was published in Spring 2011 with Cormorant Book. Progress investigates who benefits and who loses with our various definitions of progress. In past years, Smith won Vancouver's Community Hero of the Year Award and the inaugural Dayne Ogilvie Award for Emerging Gay Writers. He's won a Western Magazine Award for Fiction, scooped two short film prize categories at Toronto's Inside Out festival, and was nominated for the Journey Prize and a Lambda Literary Award.
His films have played around the world, in cities such as Milan, Dublin, Turin, London, New York, Toronto, Paris, Geneva, Berlin, Glasgow, Lisbon, Beirut, Amsterdam, Copenhagen, Buenos Aires, SF, LA and Bombay. Smith is an MFA grad from UBC's Creative Writing program.
His first book of poetry is What You Can't Have (Signature Editions, 2006), short-listed for the ReLit Prize. In 2008, he published a hybrid book of concrete poems/photographs, Body of Text (BookThug), created with David Ellingsen. His most recent book of poetry is Bad Ideas (Nightwood Editions).
My Body Is Yours was translated into French by Benoit Laflamme, with les Éditions Triptyque, titled Ceci est mon corps. 
ADDRESS
City: Kelowna, Province/Territory: British Columbia
EMAIL
peanutdaclown@gmail.com
GENRE
fiction, poetry, creative nonfiction/memoir, screenwriting, comedy.
LANGUAGES
English, although fluent in French.
PUBLIC PRESENTATIONS AND WORKSHOPS
Presentation details
Presentation Length
1 - 2 hours
Presentation Description
Presentation description
Having taught well over two decades, I have a wide range of topics available. What are you looking for? I likely have one in the bag. To show a range, here is a sample of past talks I'm particularly fond of:
Video-Poem Workshop: 
Using short Canadian films, Smith teaches student poets and fiction writers how to layer text with image to create an experimental short film. Focussing on imagery, juxtaposition, metaphor and symbol, the workshop demonstrates tools for finding a clear set of imagery to work with (or against) the text, to generate a new artwork: a short film. The talk is adaptable to include a one-hour movie-making marathon by participants divided into teams, concluding with a screening of the films afterwards.
My Body is Yours: 
Screening & Discussion
The retrospective program of film and video by Michael V. Smith, collected as My Body is Yours, reveals an artist examining gender, identity politics, sexualities, and a culture of permission in a world bent on binaries. In this screening of six to a dozen short films, Smith embraces otherness through a practice of experimentation and embodiment. Working with the video-poem as a model, the work ranges from the everyday to the grotesque, from comical to grave, and from shamed to empowered. 
Body of Text: 
Interactive Talk