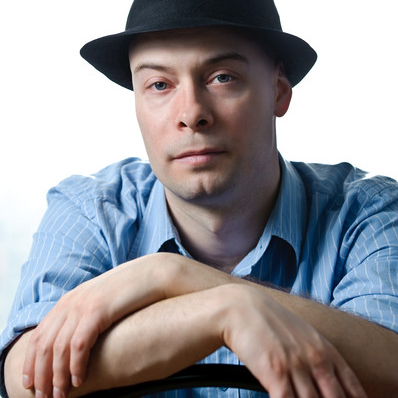 Photo Credit:
Photo credit
Brian Tao, Luxography.ca
BIO
Biography
Jeff Cottrill is a fiction writer, poet, journalist and spoken-word artist based in Toronto, Canada. He has headlined in countless literary series throughout Canada, the U.K., the U.S., France and Ireland over the last twenty years. His performance style is influenced by slam conventions, but subverts them with wit, ironic humour and a satirical tone.
Throughout the COVID-19 pandemic, Jeff has continued his spoken-word career via Zoom, which has allowed him to attend literary events in Australia, New Zealand, India, Singapore, Lebanon and other new places. In 2021, he had poetry and flash fiction published in several international anthologies, including Paper Teller Diorama (New York), Sinew: Ten Years of Poetry in the Brew (Nashville),   Globalisation: The Sphere Keeps Spinning (Sydney, Australia) and Things Fall Apart: Mischievous Machines (Leeds, U.K.).
Other short fiction and poems by him have appeared in The South Shore Review and The Dreaming Machine. Jeff was also featured in the poetry podcasts Wordsmith (Australia) and Poets and Muses (U.S.) last year. His poem "This is Not Real Poetry" (published in the most recent Brownstone Poets anthology) is currently nominated for a Pushcart Prize.
Jeff's journalistic credits include OHS Canada, Toronto.com, NOW, EYE WEEKLY, Exclaim!, Post City Magazines, YellowPages.ca, Divorce Magazine, JobPostings and Digital Journal. In 2015, he was nominated for a Kenneth R. Wilson Memorial Award for his OHS Canada article "Off the Rails." He holds a Master of Arts degree in English from the University of Toronto, as well as a certificate in creative writing from Humber College. Jeff is the former Literary Editor of Burning Effigy Press.
Hate Story is Jeff's seventh or eighth attempt at a first novel.
Jeff likes writing, movies, travel, and puppies.
ADDRESS
City: Toronto, Province/Territory: Ontario
GENRE
Satire, humour, spoken word, mystery
PUBLICATIONS
Publications
Publisher
Dragonfly Publishing
Publisher
Burning Effigy Press
Publisher
Burning Effigy Press
PUBLIC PRESENTATIONS AND WORKSHOPS
Programs & Interests
Interested in participating Union's Ontario Writers-in-the-Schools program:
All members are eligible for the Union's Ontario Writers-in-the-Schools program. Are you interested in participating in this pro
Yes
Interested in participating in the Northern Ontario WITS program:
The Union's Northern Ontario Writers-in-the-Schools program funds in-person visits to northern Ontario schools when possible. Ar
Yes