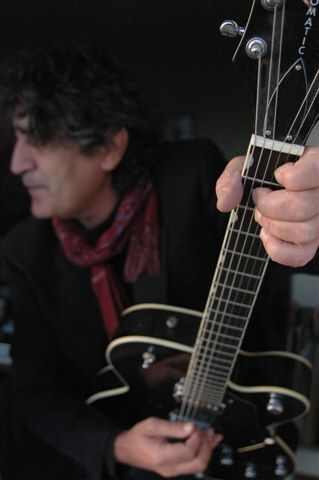 Photo Credit:
Photo credit
Berge Arabian
BIO
Biography
Biography Joseph Maviglia
In the great tradition of spoken word, performance poets and singer-songwriters, Joseph Maviglia is renowned for his energized musical performances, written text and non-fiction essays.
Born in Ottawa, he attended the prestigious Banff Centre for the Arts after attending Simon Fraser University.  He settled in Toronto where he was part of a group of singer-songwriter and poets in the vanguard of Toronto's musical and literary circles. His signature style blended the power of song and poem with a powerful on stage delivery.
Joseph's career has spanned several decades and included tours across Canada, the United States and Europe. Among the highlights are performances at The WOMAD Festival of World Music, the National Gallery of Canada, New York's Nuyorican Poets' Cafe, and The International School of Brussels.
Along the way Joseph has supported many social justice causes with his riveting performances.  Some of the organizations at whose benefits he has appeared are PEN CANADA , CARITAS, The Villa Charities Foundation, The Daughters for Life Foundation and The Labourer's International Union.
Joseph's song, 'Father, It's Time' appeared on the Juno Award-winning CD 'The Gathering', and his two successive CDs, 'Memory to Steel' and 'Angel in the Rain', both received critical acclaim. The Canadian Broadcasting Corporation commissioned Joseph to write a tribute poem on the 50th anniversary of the publication of Allen Ginsberg's 'Howl' and he was also commissioned to write a libretto for opera which was singled out for strong reviews.
Joseph's poetry has been published extensively and his books include, 'A God Hangs Upside Down' (Guernica Editions) and 'Freakin' Palomino Blue' (Mosaic Press).  His latest work of non-fiction 'Critics Who Know Jack: Urban Myths, Media and Rock and Roll' (Guernica Editons) delves into critical commentary on the inter-relationships of artistic expression in all mediums on subjects ranging from TV programs, films, song lyrics, social and political trends, both in traditional and social media.
Joseph is also a passionate educator. He has held many innovative workshops with students, assisting them with the written word and performance skills.  The list of institutions that have engaged Joseph's lively and interactive teaching skills include Upper Canada College, Branksome Hall, Brebeuf College, The International School of Brussels and The University of Calabria at Rende, Italy.
Joseph lives in Toronto.
For further reference visit www.josephmaviglia.com.
ADDRESS
City: Toronto, Province/Territory: Ontario
EMAIL
joseph.maviglia@sympatico.ca
GENRE
Poetry/Songwriting/Fiction/Non-Fiction/Libretto
PUBLICATIONS
Publications
Title
The Sicilian Cowboys
PUBLIC PRESENTATIONS AND WORKSHOPS
Presentation details
Audience Size
Audience size
50 -100 plus
Presentation Genre
Spoken Word, Reading and Performance including Musical Component
Presentation Length
30-45 minutes
Presentation Description
Presentation description
A full performance of reading, spoken word and musical compositions.  Readings would be from poetry, fiction and non-fiction.
Presentation Fee(s)
250-300
Workshop details
Intended Audience
Highschool - all levels
Workshop Length
45 minutes - 1 hour
Workshop Description
Workshop description
A workshop in writing and performance of both poetry and lyric composition featuring musical arrangements.
School presentation details
Intended Audience
Highschool all levels
Presentation Length
45 -1 hour
Presentation Description
Presentation description
A workshop including various genres  of writing, including songwriting and performance.
Presentation Fee(s)
25--300
Programs & Interests
Interested in participating Union's Ontario Writers-in-the-Schools program:
All members are eligible for the Union's Ontario Writers-in-the-Schools program. Are you interested in participating in this pro
Yes
Interested in participating in the Northern Ontario WITS program:
The Union's Northern Ontario Writers-in-the-Schools program funds in-person visits to northern Ontario schools when possible. Ar
Yes